For the month of May I have focused on a lovely stamp set called Beautiful You. Ever since it's release a couple of years ago it has been extremely popular. This is a 2 set stamp set and is filled with motivational and uplifting sentiments. It features some beautiful images of women and with Mother's day coming up next week what better stamp set to feature this month than this particular set.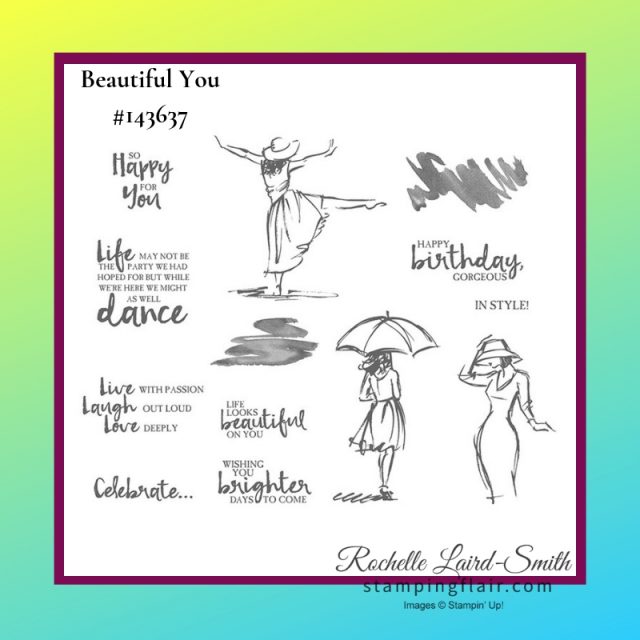 I have teamed this up with elements from the Love What You do stamp set. This too has words of encouragement and some great floral images. Together these stamp sets come together to create some fabulous cards this month for the women in our lives. Get this kit and you will be making cards in no time because the design has been thought out, so all you need to do is sit down and get crafting. You can even make Mother's Day cards using these stamp sets and layouts. 
What is Class in the Mail? 
It is is a monthly class which I prepare completely for you at no cost. 
I plan and design 4 cards, create a document with full instructions which include meaasurements, instructions, colour photos and tips – it is like having me right there helping you. 
I provide you with the card bases, cardstock and envelopes required to complete the 4 cards and a handmade card from me which can be re-used. This is provided FREE to qualifying orders. (see details below)
It is not a subscription and you can choose in which month you wish to participate
The kits can be posted anywhere in Australia
You will have the instructions with you to view at any time and you can craft when it suits you. 
How do you participate?
Spend a minimum of $60 (prior to shipping) using this Month's Host Code

HJMSKYHV 

You can purchase whatever you like in your order. I have provided a list of products I have used to create the 4 cards at the bottom of this post. You can choose to order these products or substitute them with other products of your choice. 
Upon receipt of your order, I will send an email to the email address provided in your order with the PDF of the month's Class in the Mail
The cardstock and envelopes will be mailed out to you 
If your order exceeds $250 retail value, don't use the Host Code as you will receive your own Host Rewards. I will still send you the Class in the Mail. 
Remember to use the Host Code
The PDF is available to purchase separately for $10 for anyone else who wishes to have this handy reference. 
Purchase the PDF which includes complete instructions to create 4 cards. 
There are some basic supplies you will need each month. Click on Class in the Mail to view complete details of this great feature where you get to craft with me in the comfort of your home.
These 2 stamp sets are carrying over into the new Annual Catalogue. If  you live in Australia and would like a copy of the full colour catalogue which is filled with ideas and inspiration to get you crafting, please contact me. 
Look forward to crafting with you.

Products Used to Create These Cards